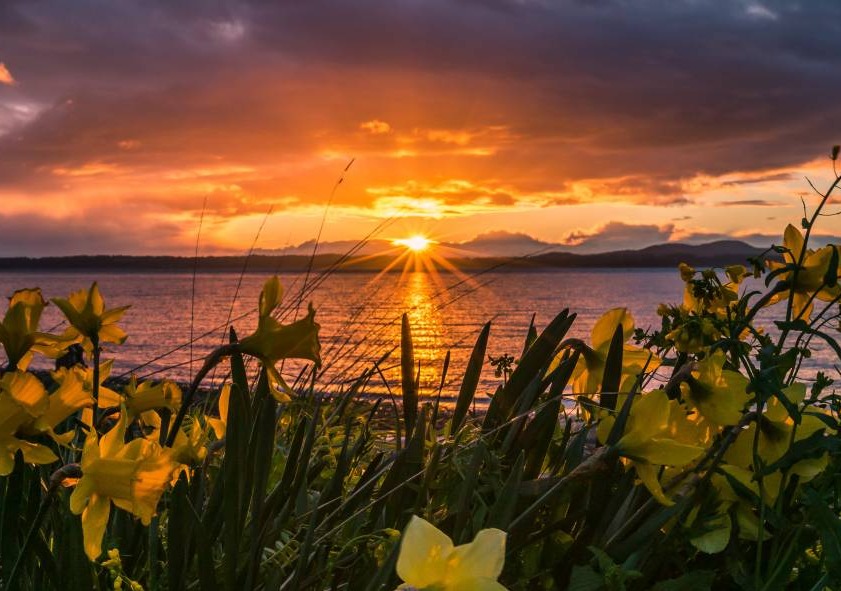 The San Juan Islands are a popular destination for travelers to relax for a weekend getaway—or longer—and watch the sun as it sets, creating postcard-worthy backdrops. Several isles make up San Juan Islands, Washington, with the major ones being San Juan, Orcas, and Lopez Islands, and the Washington Ferry system services all three. Thankfully, Northwest Island Escapes has many comfortable (and some pet-friendly) vacation rentals all over the archipelago, giving you easy access to the most idyllic spots.
Top Sunset-Watching Spots on the San Juan Islands
Here are some of the best spots to catch the sunset in the San Juan Islands, along with some fun things to do.
Lime Kiln State Park
Otherwise known as "Whale Watch Park," Lime Kiln State Park is the most popular spot for catching a glimpse of orca whales. The park features a lighthouse, platforms for whale watching, cliffs and trails for hikers, and some trees for picnics in the shade. Find a bench or a comfortable rock by the water and soak up the sun until it begins to fade behind the picturesque lighthouse. The view is beautiful, and you can take photos of the sun setting as it radiates through the lighthouse's lantern room. 
Turtleback Mountain
Take in a breathtaking view and observe the sunset atop Turtleback Mountain. Take the popular south trail for stunning views of the outer islands, Vancouver Island, and the Olympics. The north trail is less traveled and offers views across Waldron and Saturna Islands with the Canadian Rockies in the background. In either case, bring a headlamp so you can find your way back to the parking lot when the sun dips below the horizon.
South Beach
Take a hike down South Loop Trail to the end at South Beach. South is the longest beach on San Juan Island in the American Camp National Historical Park. Find serenity while watching the sunset as it scatters the Salish Sea and Mount Baker with deep pink hues. 
Unrivaled San Juan Islands Vacation Homes
It doesn't take long to realize the San Juan Islands have some pretty amazing spots for watching sunsets. After catching some picturesque views, feel right at home with a wide range of lodging options from Northwest Island Escapes. Whether in Lopez Island, San Juan Island, Orcas Island, or La Conner; our eclectic collection of vacation rentals has something for you! Check availability online or contact us today!