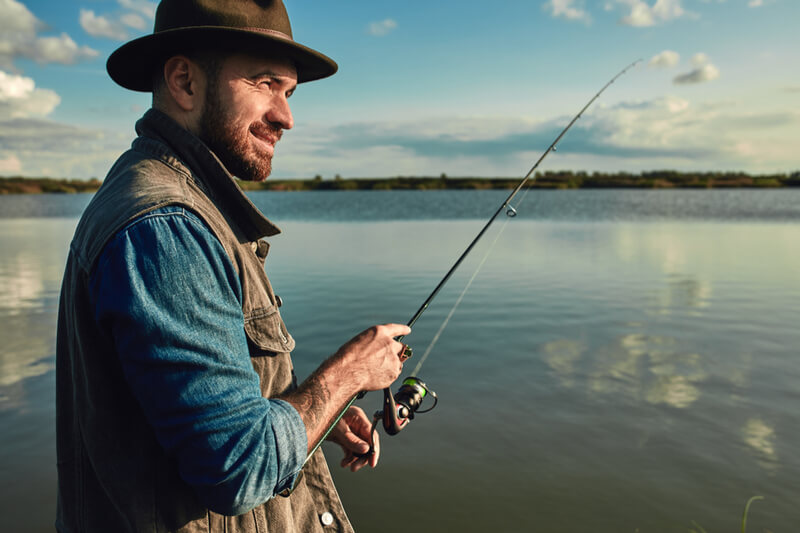 Fishing in the San Juan Islands is intriguing because it offers the ocean's excitement with the simplicity of freshwater inland lakes. As such, angling has become a popular thing to do for locals and visitors alike. From the shores of Cascade Lake to the Rosario Strait, you'll find everything from bass to halibut. And whether you plan on enlisting the help of a fishing charter or going on a solo adventure, Northwest Islands Escapes has the perfect basecamp for angling adventures in the San Juans!
Inland Fishing in the San Juan Islands
All three primary San Juan Islands (Lopez, Orca, and San Juan) have decent fishing lakes. Thanks to the Washington Department of Fish and Wildlife, many lakes are stocked with rainbow trout before each season. In addition to stocked fish, you can also find native largemouth bass, yellow perch, and sunfish.
Egg Lake
With an abundance of lily pads, largemouth bass, and adequate shoreline access, Egg Lake is perfect for casual anglers hoping to wet a line on the northeast side of San Juan Island. You won't need a boat to navigate this small waterbody at just under seven acres. Egg Lake also has a fishing pier and stocked rainbow trout.
Sportsmans Lake
Sportsmans Lake is significantly larger than Egg Lake and comes with more variety. Located only three and a half miles from Friday Harbor, anglers can try their luck targeting largemouth bass, yellow perch, and sunfish in the summer. There is also a boat launch, but the shoreline is undeveloped, making it difficult to fish on foot.
Hummel Lake
Hummel Lake has an area of 35 acres and is the only actual freshwater lake on Lopez Island. Like many San Juan Islands fishing lakes, largemouth bass dominate Hummel. Still, eager anglers will also find rainbow trout during early spring and bluegill throughout the summer. Hummel Lake is also big enough for small watercraft that come in handy when navigating through heavy vegetation.
Moran State Park
Boasting four different inland lakes, Moran State Park on Orcas Island offers arguably the best freshwater fishing in the San Juans. For kokanee salmon and various trout species, check out the scenic Mountain Lake. If you haven't had your fill of largemouth bass and rainbow trout, stop by idyllic Cascade Lake, which also has kokanee and cutthroat trout. Finally, if you want to mix in a bit of hiking, Twin Lakes is only accessible via a hike from Mountain Lake but rewards visits with a tranquil fishing experience.
3 Saltwater Fishing Charters in the San Juan Islands
With a healthy population of halibut, lingcod, and various salmon species, the San Juan Islands are teeming with excellent saltwater fishing opportunities! Although some fishermen and women would like to try saltwater angling on their own, there is no shame in finding assistance from a local charter service.
Where to Stay on the San Juan Islands
Now that you know what to expect while fishing on the San Juan Islands, you'll want to find a place to stay! Thankfully, NW Island Escapes offers a stunning array of vacation rentals awaiting your arrival. To start planning your angling escape, reach out online or call 800-391-8190.